Preferences
Save all mounted volumes when quitting to be restored while relaunching.
Set which type of notifications you want to receive. Alternatively, you can choose Open System Preferences to disable the notifications all together. The following types of notifications can be toggled:
Filesystem mounted. The volume is now connected.

Filesystem unmounted. The volume has been disconnected.

Pause Sync. Synchronization has paused due to the server not reachable because of a network or login error.

Resume Sync. Synchronization has automatically resumed as after reachability change.

File Added. New file has been found on the server not previously synced.

File Deleted. File has been deleted on the server previously synced.

File Updated. File has been updated on the server previously synced.

File Uncached. File previously cached for offline access has been purged.

Download complete. File download completed in the background.

Upload complete. File upload completed in the background.

Sync Error. Error synchronizing file because of a server error response.

Sync Conflict. Error synchronizing file because of a sync conflict.
You can disable notifications in System Preferences → Notifications. Choose None for alert style and keep checked Show in Notification Centre. This way you will no longer be disturbed by any notification displays, but can still check back the notifications in Notification Centre anytime if required.
You can disable notifications in Settings → System → Notifications and Actions. Uncheck Show notification banners and Play a sound when a notification arrives. Keep Show notifications in action center to see the notifications in Windows action center anytime if required.
Select connection profiles to be installed. Either scroll through the list or use the search function to look for a specific profile. The connection profiles will be installed after ticking the corresponding checkboxes. Installed protocols are displayed in the protocol dropdown menu in the bookmark window. To disable the connection profile simply untick the checkbox.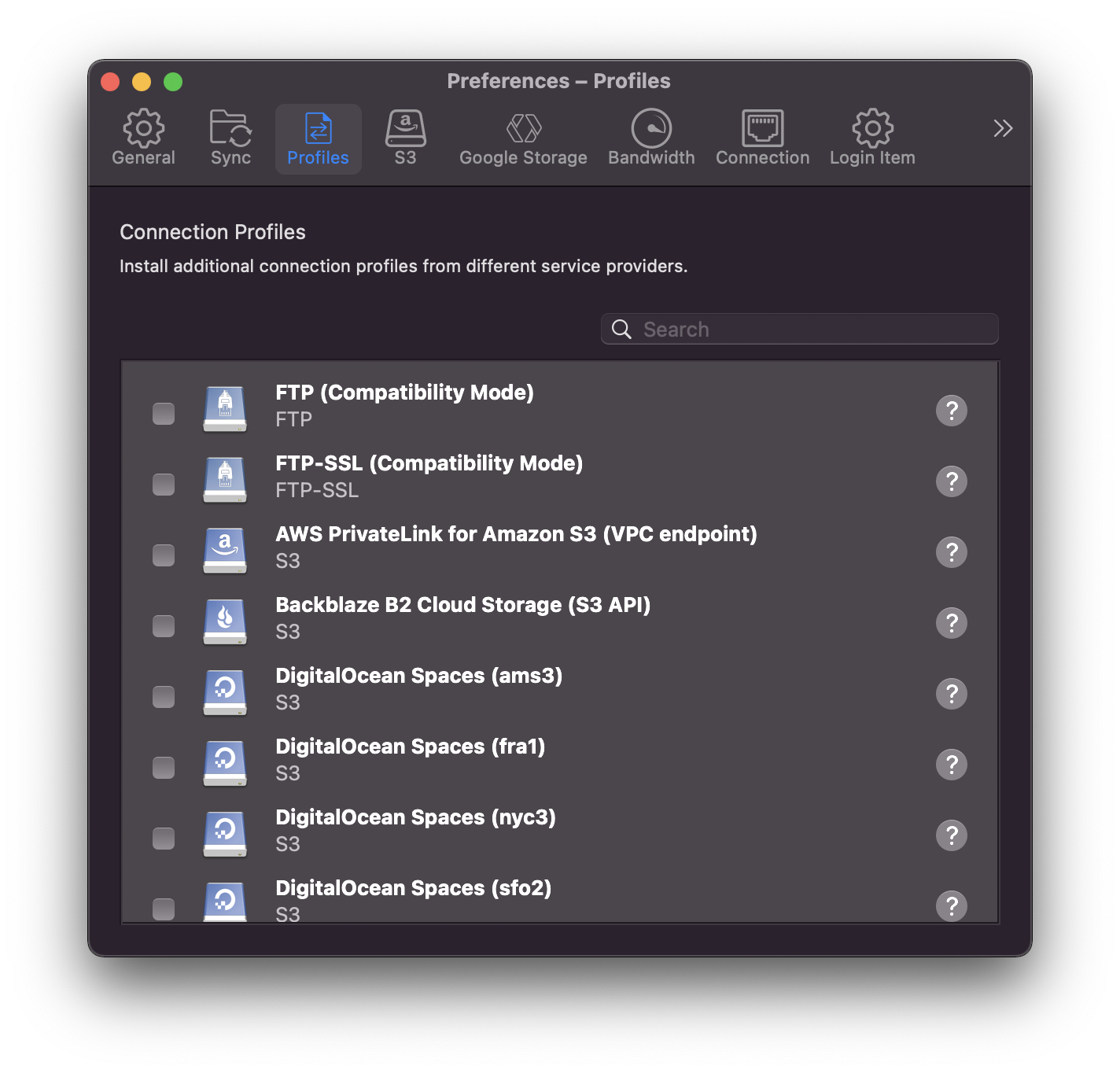 Reconnect after restarting the computer. If you choose Enable Login Item and Save Workspace in Preferences → General and do not manually eject the volume prior to reboot it will reconnect after login.
An auto-update feature will alert you when a new version is available and self updates the application. Choose Preferences → Automatically check for updates. You can also choose to update to snapshot or beta builds.
Snapshot builds: Include the latest changes and are published continuously. These builds are not manually tested.

Beta builds: Published before a release and include the latest features and have been tested but might not have release quality yet.
Windows only
You receive no update notification if your user is missing administrator permission.