Backblaze B2

Backblaze B2 Cloud Storage works similar to Amazon S3 or Microsoft Azure, allowing you to store unlimited data in the cloud. But does it for 1/4th the cost.
Obtain the login credentials from backblaze.com. Choose App Keys on the sidebar and generate a new application key. Once you have your credentials, choose B2 Cloud Storage from the list of protocols when editing a bookmark or use the b2:// scheme when using the CLI.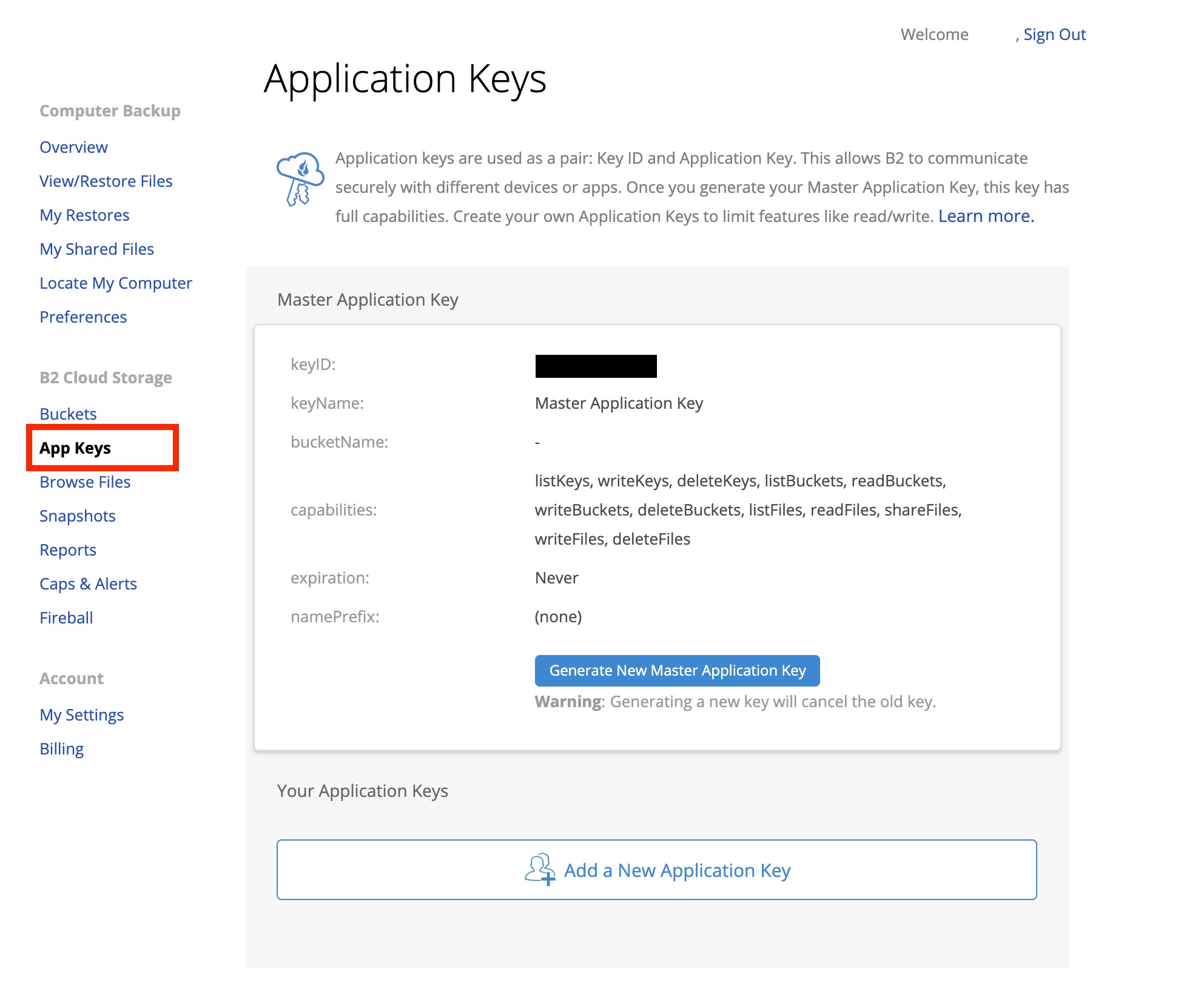 The Master Application Key for an account can be found at the top of the App Keys page of the Backblaze website once you signed in.

The key for your account has complete access but will become invalid if you generate a new one.

The key information is only shown when generating the key and is not shown again, so make sure you save the credentials in a secure location if you plan on using this more than once.
Use your Account ID and Master Application Key to log in.
Use your Key ID and Application Key to log in. The application key can be restricted to a single bucket.
How to Create Application Keys
Use the Backblaze website and sign in to your account

Click on App Keys in the left-hand menu

Select Add a New Application Key

Specify the key settings and permissions and click on Create New Key

After the Application Key is created, a blue panel is displayed containing the Key ID and Application Key for the newly generated key.
Important
The key information will only appear once. Copy the information somewhere safe for later retrieval.
Download the Backblaze B2 (S3 API) Connection Profile for preconfigured settings.
Attention
Buckets created prior to May 4th, 2020 are not S3 compatible and cannot be accessed
You can list all buckets with Cyberduck CLI using
duck --username <application key> --list b2:/

Refer to the Cyberduck CLI documentation for more operations.
The modification date retention is supported using src_last_modified_millis for new files uploaded but without the option to adjust the modification date later.
not supported. Supported in Cyberduck 7 or later.